The Sinner Season 2: The Sinner is an American anthology crime drama mystery television series. Eight episodes of the program, based on the novel of the same name by German crime writer Petra Hammesfahr and originally conceived of as a "close-ended series", were ordered in January 2017 and premiered on USA Network on August 2, 2017. In March 2018, the series was renewed for a second season, also of eight episodes, which premiered on August 1, 2018, and concluded on September 19, 2018. In November 2019, a trailer was released which revealed the third season is scheduled to premiere on February 6, 2020.
Follows the story of a young woman who commits a horrific act of violence and rage, and to her surprise, has no idea why. The investigator who becomes obsessed with the case is determined to dig into her past and figure out why this is happening.
The first season of The Sinner received two nominations at the 75th Golden Globe Awards: Best Miniseries or Television Film and Best Actress – Miniseries or Television Film for Jessica Biel. Biel was also nominated for a Primetime Emmy Award for Outstanding Lead Actress in a Limited Series or Movie.
The Sinner Season 2 Cast
Bill Pullman as Detective Harry Ambrose
Bill's character is the only one from season one that remains on the show for the second season. His character is a detective who gets to the bottom of why ordinary people can commit heinous crimes.
Carrie Coon as Vera Walker
Carrie, 37 is an American actress and takes on one of the main roles in this new series. Before The Sinner she was best known for playing Nora Durst in The Leftovers (2014–2017).
Elisha Henig as Julian Walker.
Elisha takes on the role of Julian who the story is centred around. Season two starts off with him being taken on a trip to see the Grand Canyon – but out of nowhere he kills his parents.
Hannah Gross – Marin
Hannah Gross plays Marin, Heather's high school best friend who disappeared from town years ago in a cloud of mystery. Her role in the upcoming series is not yet clear. Gross is best known for playing Debbie Mitford in Netflix serial killer drama Mindhunter.
Natalie Paul – Detective Heather Novack
Playing a local detective investigating the case is Natalie Paul from HBO's The Deuce. Detective Heather Novack is still in training and ends up calling Ambrose to consult on the double homicide which has no clear motive.
The Sinner Season 2 Episodes
Turns Out, Harry Started The Fire
Harry reveals to Julian in Part VI that he starts the fire himself when he arrives home to an unattended boiling pot of water and his depressed mother sitting non-responsive in he bedroom. Young Harry then proceeds to light a dish towel on fire and ignite the curtains with it, which results in his home burning down, his mother getting committed, and and Harry in foster care.
Harry Runs Away From Keller As A Teenager
It's revealed at that same present-day party that Ambrose leaves Keller at age 17, after his mother's death, and never returns — that is, until the Julian Walker murder investigation lured him back.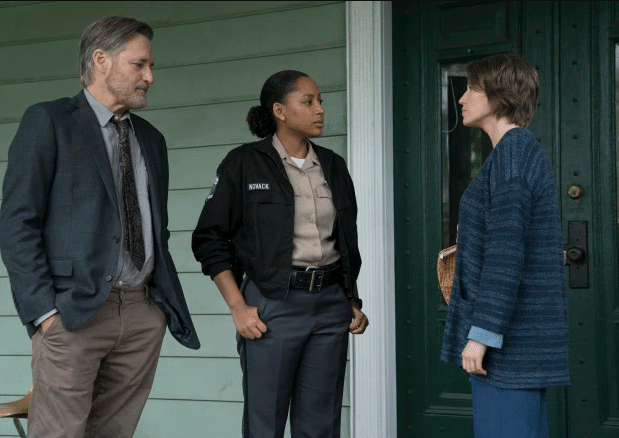 Marin's Relationship With Mosswood Grove Grows Stronger
Heather is awakened the next morning by Marin in her bed. Clearly perturbed that she had left her there along for the night, Heather wants an explanation of why Marin felt such a strong connection to that place. Heather can't really give one, but it's clear that she felt a certain sense of calm and community while at Mosswood. This is made all the more clear when on a night shortly after, Heather goes to pick Marin up for a party and Marin and Tammy are at each other's throats again. Instead of wanting the comfort of Heather, Marin says she wants to go back to Mosswood.
Throughout the season, The Sinner subverted expectations in a way that made for really interesting storytelling, from the revelation of Julian's parentage (several times over) to the practices of Mosswood, to even comparatively small (but important) moments like Marin's death. It was set up so clearly that Julian was the one who had killed her to escape, and then twisted again to seem like it was a murder.
The Sinner Season 2 Reviews
Cora (Jessica Biel) is a normal looking young woman who commits a shocking crime in full view of many witnesses. As viewers, we witness the crime also, so there is no doubt of her guilt.
Means and opportunity are never in question, but what is the motive? That is the central mystery around which this series revolves. And it is the question that drives police detective Harry Ambrose (Bill Pullman) to dig deeper despite Cora's confession of guilt.
Ambrose is a sad sack character who seems to commune better with nature than with people. Perhaps he understands compulsion and seeks to unravel his own while investigating Cora's.
In the first episode, Cora says, "I never thought that I would have a normal life." This is a major clue that her behavior may be rooted in her early years. Throughout the show, there are flashbacks to various happenings from all periods of Cora's life–clues that form pieces of the jigsaw puzzle solution.
Will The Sinner Season 2 Be On Netflix?
Season 2 of The Sinner is now available to watch on Netflix.
Where Is Season 2 Of The Sinner?
Season 2 (2018) After almost 15 years, Detective Harry Ambrose returns to his hometown of Keller, Upstate New York, to help investigate a double murder with Heather Novack, an old acquaintance's daughter who has just made detective.
Who Plays Vera In The Sinner Season 2?
The Sinner (TV Series 2017– ) – Carrie Coon as Vera Walker – IMDb.
How Many Episodes Are There In Season 2 Of The Sinner?
How many episodes are in The Sinner season 2? There are eight episodes in the second season of The Sinner. Each episode of The Sinner is 45 minutes long in length. The entire second season of The Sinner will be available to stream and download on Netflix in one go, so fans can binge-watch the series over the weekend.